Step 1: Look for the low hanging fruit … in data
June 13, 2022
Low-hanging fruit is often used as a metaphor for things where a lot of results can be achieved quickly and with relatively little effort. In this series of three steps, we show you how to score the low-hanging fruit in horticulture. Where does your search begin? In data!
Growing consistent, high-yielding crops in environments we can't fully control is no easy task. When environmental factors can determine the success of your business, reliable, consistent real-time information on the environment becomes non-negotiable.
Wireless sensors are the easiest and most versatile technology to capture this data and turn it into business intelligence that can be acted upon. Setting up a sensor solution doesn't need to be complicated. Start with the low-hanging fruit. Tackle your most immediate measurement needs, and expand from there.
Data is a grower's greatest asset
Horticulture is a precise science. From determining the ideal mix of nutrition and water needed to managing the sun exposure, optimizing soil moisture or managing temperature and humidity conditions inside a greenhouse— in hortibusiness, accuracy and precision map directly back to profitability. But how does data collection turn into tactical and strategic advantages for growers?
Translating hortibusiness into metrics
Our customers tell us that the secret to their success in leveraging sensor technology is recognizing that their business processes can be expressed in measurements— or responses to those measurements. The 30MHz platform with well placed (and moveable) wireless sensors, monitors environmental factors and generate real-time alerts, alongside reports and analytics, when certain rules are met. Whether you're monitoring the surface temperature of crops, counting objects on a conveyor belt or tracking the temperature and humidity in a greenhouse, the right sensor solution can speed up response time and provide critical information for decision making.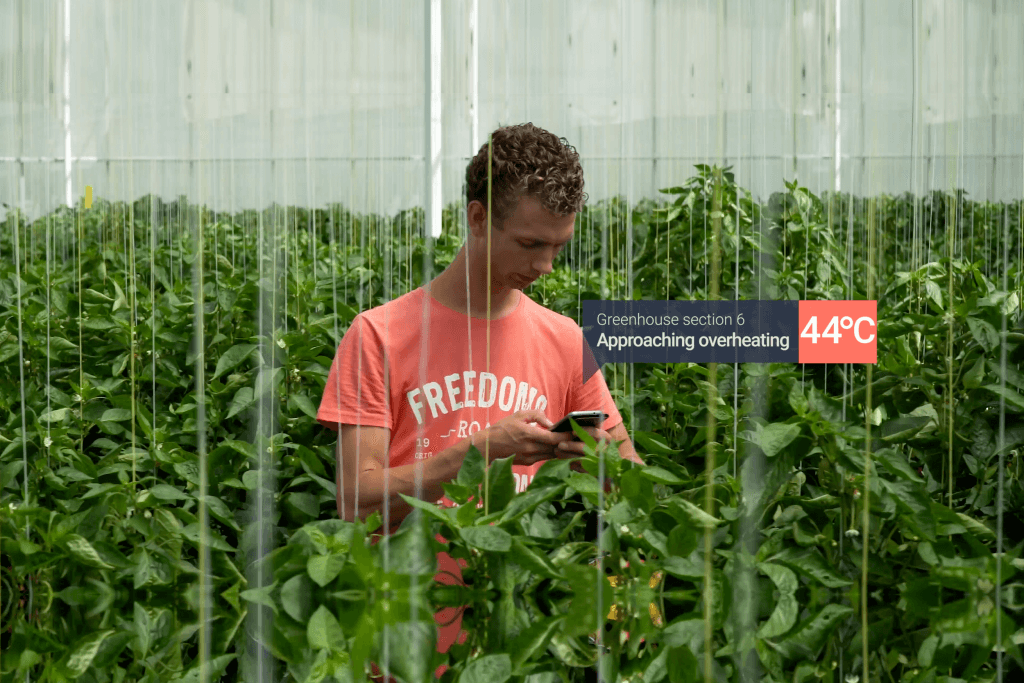 For growers of any size
Even just a few well-placed sensors can drive innovation and profits. We've built the 30MHz platform with the belief that the benefits of cutting edge technology shouldn't be exclusive to the biggest organizations. That why we've made it easy to mix and match sensors and add new ones at your own pace. Customers can start seeing the benefits of sensor data and real-time alerts on their decision making straight away, and add more sensors to their network as needed.
Read also: The 6 benefits of using smart sensors in horticulture
It's your toolbox to customize and grow
To guarantee that we serve their needs, we've made sure to put our customers at the very center of our product development process. We've worked with Dutch pepper farm Moors to develop a flexible infrared temperature sensor to optimize growth and prevent burning, developed a conveyor belt counting sensor to help Pop Vriend Seeds improve its processing, and have incorporated the insights and feedback from customers including Iribov Labs, Jan de Wit & Sons and Vertify in developing our temperature-humidity sensor.
Ebook: 5 opportunities to benefit from digital horticulture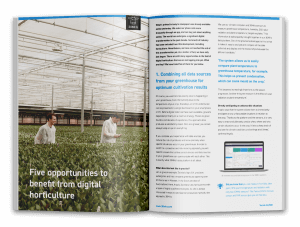 The digitization of horticulture offers great opportunities for energy-efficient cultivation. The use of sensor and climate data provides new insights to optimize cultivation.
How can we help you digitise your cultivation process?
Analyse all kinds of information from different data sources such as climate computers, sensors and manual input in a central platform. Improve the production process of your crops, plants, seeds or bulbs together with advisors, distributors and researchers. We are happy to talk to you about which service model is most suitable for your company.