The 6 benefits of using smart sensors in horticulture
June 02, 2022
Do you work in horticulture and do you want to save time and energy, but still want the best crop quality? Use smart sensor technology! These wireless sensors are easy to use in your greenhouse or polytunnel and send the data to your 30MHz dashboard. This is where all data comes together (also from your climate computer if you want). The dashboard gives you plenty of useful insights that can make a difference in energy consumption, crop quality and productivity.
We list six benefits of using smart sensors in horticulture:
1. Recognize and prevent problems
Granular crop-level monitoring can help growers identify and remedy problematic and potentially destructive conditions. Smart sensing helps 30MHz customers prevent sunscald, optimise nutrient and water delivery, and prevent moisture-borne diseases by tracking dew point and soil moisture.
2. Get more detailed insights
Metrics including temperature, humidity, and soil moisture can vary significantly from one part of a greenhouse, tunnel or field to another. Data from sensors spread across locations can provide the insight needed to create a more tailored approach to crops, based on their specific needs in a certain location, at a given time.
3. Respond faster with notifications
Real-time monitoring and immediate alerts give growers a continuous overview of their crops, assets and growing environments. Customizable notifications with adjustable thresholds empower growers to respond to changing conditions as quickly as possible, without the lag time of manual data collection and analysis.
Read also: Receive useful notifications and alerts during the cultivation process
4. Monitor all your locations
Smart sensor technology can help you accurately monitor that difficult corner of the greenhouse, or save you a drive to the end of your field. It can also give you an overview of the conditions in facilities across the globe. Dutch horticulture leaders use 30MHz technology to track temperature and humidity in tulip breeding facilities near Moscow, Russia, enabling the company to share real-time insights on breeding conditions with colleagues all over the world.
Ebook: 5 opportunities to benefit from digital horticulture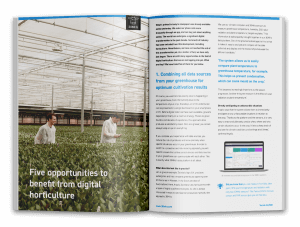 In the ebook you can read how other growers use smart sensors, what insights they have gained and what that means for their production. The digitization of horticulture offers great opportunities for energy-efficient cultivation.
5. Identify trends over time
Alongside rapid, precise response to climate conditions, analytics in 30MHz dashboard give customers the ability to explore data deeply observing trends across seasons or locations over time. Customers are free to export and manipulate their data, creating new possibilities to share knowledge with peers or leverage physical data for benchmarking and future planning.
6. Save time spent on manual measurements
Registering crop data at fixed times is useful, but real-time monitoring of those crops via your smartphone, tablet or PC is great. Place the wireless sensors in hard-to-reach areas and monitor soil moisture, dew point, light incidence and more from minute to minute. This saves you a lot of time.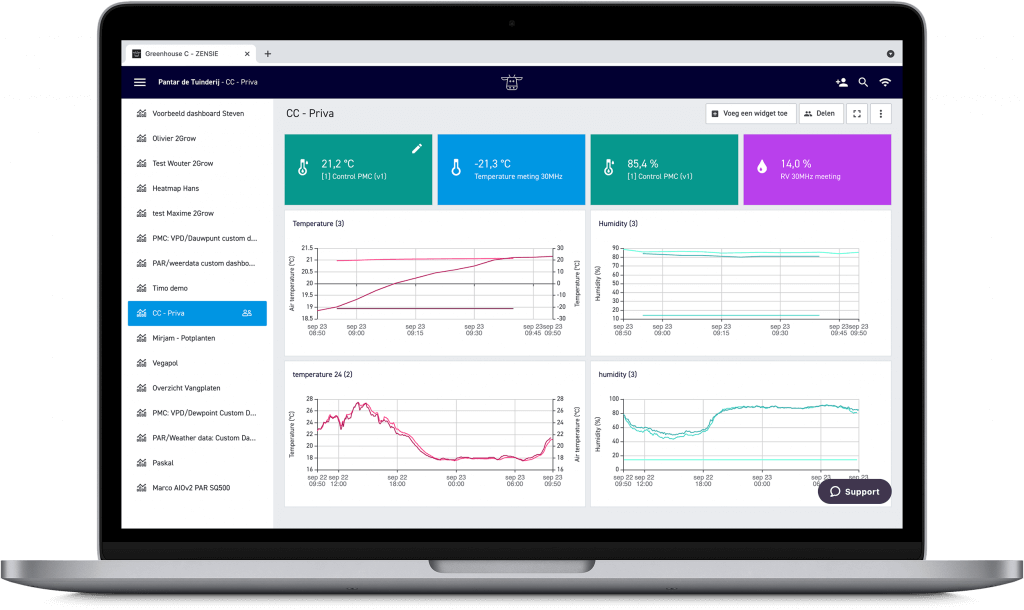 Full control over how to measure
When designing the 30MHz platform, we set out to create a product that saves growers time. This is inextricably linked to product flexibility. Giving customers the option to deploy a smart sensing network on their own terms, at their own pace, with just the number of sensors they need for their specific context guarantees the quickest, leanest, and most efficient installation. Customers can easily deploy a sensing network out of the box, in a few simple steps. Sensors are shipped calibrated, and come online in moments. With the option of a 3G, solar-powered gateway, the 30MHz platform can ensure network connectivity in remote, outdoor conditions, and sensors are rugged, weather-proof and ready for the environments crops grow and are stored in.
30MHz Sensor Catalogue
Designed for accuracy, flawless connectivity and remote placement, these tools are built to withstand the elements in all growing contexts. Build your digital infrastructure with a combination of sensors that suit your needs, and add new data sources at any time.
How can we help you digitise your cultivation process?
Analyse all kinds of information from different data sources such as climate computers, sensors and manual input in a central platform. Improve the production process of your crops, plants, seeds or bulbs together with advisors, distributors and researchers. We are happy to talk to you about which service model is most suitable for your company.