Top 3 most viewed 'How to' videos about the 30MHz data platform
March 01, 2022
The 30MHz data platform retrieves accurate, real-time data from 30MHz sensors and climate systems in your greenhous(es). You can easily translate this data into insightful graphs, diagrams and heatmaps. You can also set notifications and share dashboards. Keep all your statistics about your crops in one central and user-friendly place that is accessible via any smartphone, tablet or PC.
To set up the platform yourself, we have helpful 'How to' videos online. In this article you will find the most viewed 'How to' videos and a list of all the features.
How to set up an animated heatmap
Heatmap animations, give 30MHz customers a bird's eye view of the changes in these value distributions, helping identifying new trends, tendencies and relationships between values over a given period of time. Growers can now, for example, observe changes in temperature and dew point over the course of a day, and see the sun's impact on these readings in their facilities.
See also: How to add a new widget to dashboards
How to create a single value widget
Single value widgets show only one value from the selected sensor(s). You create a widget for a single check, or you can create a widget for multiple checks. Single value widgets provide a quick overview of your sensor readings.
See also: How to create a single value widget
How to add a line chart
Chart widgets contain graphs with multiple data points for a selected time frame. You can create a chart widget for a single check, or you can create a chart widget for multiple checks.
See also: How to create a line chart
More useful widgets and features on the 30MHz platform
Within our data environment we offer all kinds of functionalities to eliminate threats as much as possible and increase production. An overview:
Start digitising your cultivation process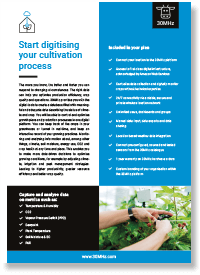 The more you know, the better and faster you can respond to changing circumstances. The right data can help you optimise production efficiency, crop quality and operations.
30MHz Digital Connect provides you with the digital tools to create a database filled with meaningful and adequate data describing the status of climate and crop. You will be able to control and optimise growth plans and production processes in one digital platform.
How can we help you digitise your cultivation process?
Analyse all kinds of information from different data sources such as climate computers, sensors and manual input in a central platform. Improve the production process of your crops, plants, seeds or bulbs together with advisors, distributors and researchers. We are happy to talk to you about which service model is most suitable for your company.