Platform upgrade: Growing Degree Units
April 09, 2020
Since we started working for you, the growers of the world, we have been guided by our very first grower customers in how we have developed every element of our business. Now our portfolio of sensors reflects the metrics that you want to monitor, our software is reflecting the ways that you want to analyse that data and communicate with others about those insights.
One of the calculations that we heard about many times was growing degree hours (days more commonly in arable environments) or chill hours, especially for our fruit growing customers. While researching this in more detail, collecting information about the various models and conventions, we realised just how common and useful this calculation was across pretty much every crop. Not only does it allow you to monitor the development cycle of your crops, but also the lifecycle of various pests. That's why we decided to launch a new Growing Degree Hours/Days (GDH/GDD) widget within our platform.
Our platform needs to be flexible enough to allow growing experts to best make use of the tools that we provide. To this end, our GDH widget will be released with fully customisable parameters from start date, sensor selection, temperature threshold level and a "target level". And it will continue to evolve to enable the grower to instantly get insight from any of their crop level sensors into how well developed the crop is going to be at a particular point in time.
This very same principle can be applied to any of your Integrated Pest Management (IPM) consultants' knowledge. Let them know you have started to see the larvae of a particular pest and they will be able to let you know how much heat accumulation there has been from your sensor in that area, which will have been sufficient to let that pest develop. This will enable you to make a decision about how desperately you need the relevant biological control to fight the next stage of the pest!
Monitor crop-level and climate insights in one platform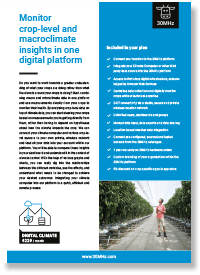 Do you want to work towards a greater understanding of what your crops are doing rather than what the climate around your crops is doing?
30MHz Digital Complete combines macro and micro climate data and uses measurements directly from your crops to monitor their health. We can connect your climate computer and various crop-level sensors to your private wireless network and feed all your data into your account within our platform.
How can we help you digitise your cultivation process?
Analyse all kinds of information from different data sources such as climate computers, sensors and manual input in a central platform. Improve the production process of your crops, plants, seeds or bulbs together with advisors, distributors and researchers. We are happy to talk to you about which service model is most suitable for your company.