Want to know the power of a sensor? Look to the cloud.
August 16, 2020
Technology in horticulture doesn't have to be difficult or complicated. We've built a business around this belief, and it's not just for the sake of improving or 'disrupting' existing technology. Growers need technology to be simple and streamlined, because they've got more than enough on their plates, working to make sure we've got enough on ours.
Still, when we talk about technology, we tend to use shorthand. We've used "smart sensing tech" to explain the hardware, network, and cloud platform we provide our customers with to monitor the real-time state of their crops and environment. As with any conversation, as we talk to our customers and potential customers, we learn how to better express ourselves, and better explain the technology we're developing.
Metrics, not sensors
30MHz technology is about a great deal more than just sensors: it's about scalable, reliable architecture, flawless connectivity, and usable crop-level analytics that help teams work together to make the best decisions for their businesses, farm to fork.
Nevertheless, in our early days, we'd often find ourselves in conversations with (potential) customers trying to understand which sensors they wanted. That ended quickly. The difference may feel negligible to some, but it's really not about which sensors a grower needs. It's about the insights they need, metrics they want to capture.
Multiple metrics, one sensor
Developed with input from growers, the pointed microclimate sensor can capture plant temperature of individual crops, ambient temperature and relative humidity (RH). Luckily for growers, we're not just a sensor company.
The 30MHz platform is designed to make the most of customers' hortidata. With the data captured by the pointed microclimate sensor, calculations in the cloud can provide insights on dew point, absolute humidity (AH), humidity deficit and the absolute difference between air temperature and dewpoint.
Multiple metrics, one sensor. That's the power of a cloud platform. (And we're adding new calculations, based on customer needs).
Crop metrics
Our customers can see their crop metrics in various forms, including:
Alerts
Graphs
Heatmaps
Customers can also benchmark and compare metrics, set in-graph targets, and view data in context with external data sources like climate control, traceability and shelf-life. Discover all the features of the 30MHz platform.
---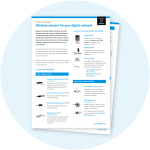 30MHz Sensor Catalogue
Are you curious about which variables we can map and which sensors are available?
Download the 30MHz Sensor Catalogue
---
How can we help you digitise your cultivation process?
Analyse all kinds of information from different data sources such as climate computers, sensors and manual input in a central platform. Improve the production process of your crops, plants, seeds or bulbs together with advisors, distributors and researchers. We are happy to talk to you about which service model is most suitable for your company.