Step 3: Pick the low hanging fruit … with the 30MHz solutions
June 16, 2022
The more you measure, the more you know. Gathering large quantities of data is a great way to identify patterns and opportunities for optimization and greater efficiency. But as with most things, when it comes to data, it's quality that's most important. Rather than aiming to quantify their environment in its entirety, growers should start with the low hanging fruit: prioritize the most important information, and expand their sensor network as needed.
Is crop surface temperature more relevant than greenhouse occupancy? Begin there, and add new types of sensors when necessary. As long as it's consistent, sensor data can provide relevant and actionable insights that impact growers' bottom line well before every single metric has been measured. But how to start?
Starting with the 30MHz platform
In this video, our colleague explains how to get started with the 30MHz platform. For this websinar the data collected within a greenhouse with potted plants with different sensors is used, such as the CO2 sensor, the PAR sensor and the PMC sensor.
Create valuable insights
Our wireless sensors are available together with the 30MHz platform. We are happy to explain why this is connected. You can't do much with data alone, by making data visual you get information and valuable insights.
1. Wireless sensors built for horticulture
Our wireless sensors are specifically aimed at the needs of modern horticulture. Measure variables that matter, such as VPD, dew point, moisture deficit, EC, VWC, temperature, light intensity, relative humidity and CO2. All sensors come to you pre-set and can be used immediately. All sensors are supplied with a Connect casing, which is included with the product.
2. Build your reliable location network
Ensure a guaranteed reliable network that operates in even the most severe conditions and provides network access in the most remote locations.
3. Communicate with your sensors in one platform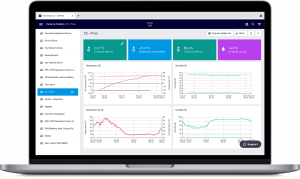 Once your sensors have been installed and your digital infrastructure is in place, our data platform will help you to provide the right insights. The platform retrieves accurate, real-time data from 30MHz sensors and climate systems. You can easily translate this data into insightful graphs, diagrams and heatmaps. You can also set notifications and share dashboards.
How can we help you digitise your cultivation process?
Analyse all kinds of information from different data sources such as climate computers, sensors and manual input in a central platform. Improve the production process of your crops, plants, seeds or bulbs together with advisors, distributors and researchers. We are happy to talk to you about which service model is most suitable for your company.