Combining green thumbs and digital technology
March 29, 2022
What's printed in today's newspaper was already available online yesterday. We make our phone calls more frequently through an app, and can buy just about anything online. The world has undergone a significant digital transformation in the past decade. No branch of industry has been excluded from this development, including horticulture. Nevertheless, we have not reached the end of this transformation yet. As a matter of fact, we have only just begun. There are still many opportunities in the field of horticulture to combine green thumbs and digital technology.
'In the horticulture industry, most growers rely on their gut feeling and their intuition to grow their crops. This is something that we are completely used to. However, as tools and sensor technologies continue to improve, we can start to rely more on data and take a data-driven approach. I think that the combination of a growers' intuition with the right tools, such as wireless sensors and software, will become increasingly important.' says a West Frisian grower of young plants.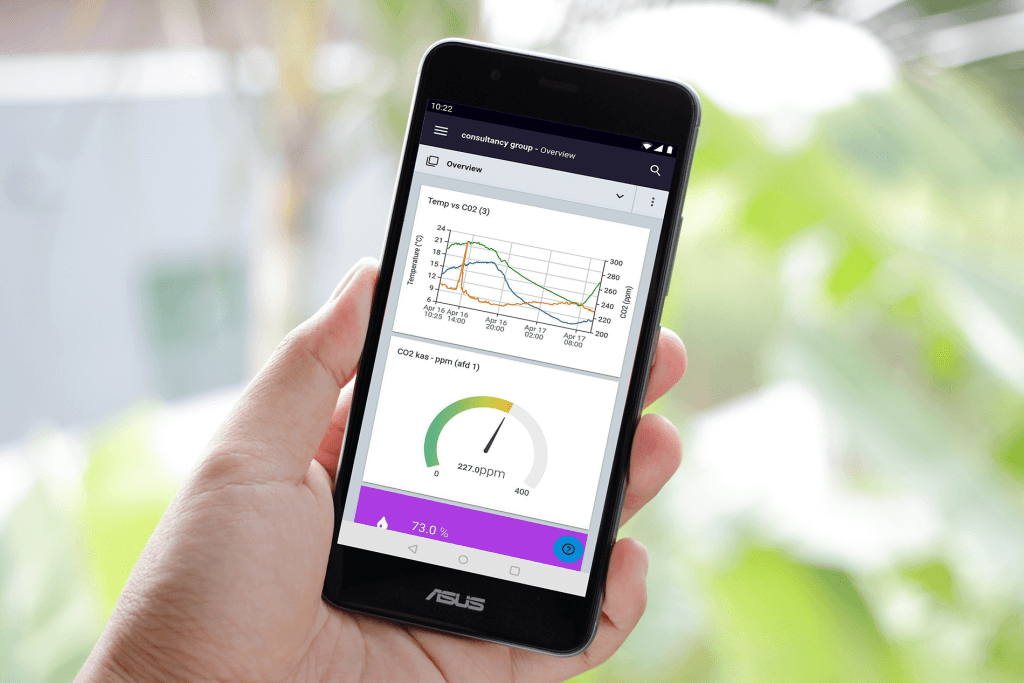 Continuous optimisation of cultivation strategy
Digitalisation allows growers to build a database full of useful and adequate data describing the climate and crop. It facilitates the management and optimisation of cultivation strategies and production processes in a single digital platform. Growers closely monitor the crops in their greenhouse or polytunnel and compile an interactive record of their cultivation methods.
These records make data such as climate, soil moisture, energy consumption, CO2 and crop health available to growers on a 24/7 basis, no matter where they are. The decisions that are subsequently taken concern aspects such as their strategies for climate, irrigation and pest control. This ultimately leads to higher productivity, a more efficient use of raw materials and higher-quality crops.
Ebook: 5 opportunities to benefit from digital horticulture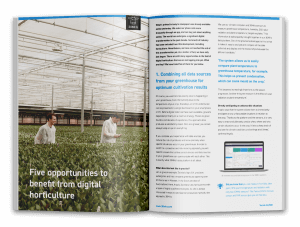 The digitization of horticulture offers great opportunities for energy-efficient cultivation. The use of sensor and climate data provides new insights to optimize cultivation.
Preventing downy mildew
'We decided that we wanted to take the next step in digitising our production processes with 30MHz. In addition to the platform, we started using microclimate sensors to compare the data with our existing climate computer data. All this data is fed into the 30MHz data platform so that we can analyse and use these insights every moment of the day.' according to the West Frisian grower.
We now have a drier climate in the greenhouse, which allows us to prevent downy mildew. Our ability to measure oxygen levels and plant temperature has made it much easier to create an optimum climate for our plants. Plants thrive and are more resistant to disease when they are grown in an optimum climate. The 30MHz platform offers the advantage that all data is collected in one place, but can be accessed on multiple devices – including my phone.'
30MHz Sensor Catalogue
Designed for accuracy, flawless connectivity and remote placement, these tools are built to withstand the elements in all growing contexts. Build your digital infrastructure with a combination of sensors that suit your needs, and add new data sources at any time.
How can we help you digitise your cultivation process?
Analyse all kinds of information from different data sources such as climate computers, sensors and manual input in a central platform. Improve the production process of your crops, plants, seeds or bulbs together with advisors, distributors and researchers. We are happy to talk to you about which service model is most suitable for your company.