Wengfong nurseries upgraded to smart sensing tech, and is reaping the benefits
June 12, 2018
Wengfong Nurseries, leading growers of Chrysanthemum cuttings based in the Cameron Highlands district of Malaysia and the biggest propagator in the country, upgraded from inaccurate handheld sensors and data-loggers (read: time wasted with manually taking measurements) to monitoring EC, VWC, temperature/humidity, and PAR (sunlight strength) remotely with 30MHz wireless sensing technology.
The results?
More accurate data on crops and their environment, better use of employee time, increased crop quality, and 3,000 liters of fertilizers saved.
Wengfong has been using 30MHz technology since March, 2018 and is saving approximately $7.50 USD per day in fertilizer cost. In a year, Wengfong is expected to save approximately $2,780.95 USD on fertilizer– more than the nursery spent on smart sensing tech ($2,500 USD, including yearly software fee).
A complete return on investment (and then some) in less than a calendar year? Not too bad for a relatively new technology– if we do say so ourselves.
Here's what the customer says: "I can trust the information from anywhere in the world on my iPhone. Sometimes I cannot sleep and I will check my phone to make sure that my plants are doing okay. I feel more confident in my decisions and I am already saving money everyday through the usage of the 30MHz solution."- E.K. Tan, Director of Wengfong Nurseries.
How does EC monitoring lower fertilizer costs?
Simply put, EC determines the salt concentration of a solution which in turn allows growers to understand nutrient conditions. If the EC value is deemed high in the substrate, then there is no need to further fertilize. Accurately knowing the EC measurements allows you to better control how fertilizer is dispensed.
30MHz Sensor Catalogue
Designed for accuracy, flawless connectivity and remote placement, these tools are built to withstand the elements in all growing contexts. Build your digital infrastructure with a combination of sensors that suit your needs, and add new data sources at any time.
Improved yield quality with smart sensing?
Wengfong Nurseries Director E.K. Tan is convinced that with a fully deployed sensor solution (i.e. covering the entire 4 hectare farm), he'll be able to improve the quality, and by extension, profitability of his yield.
Wengfong's cuttings are classified as Type A, Type B and Type C quality outputs. The price differential between the various types on the open market is significant. A Type A output will sell for roughly $2.70 per bundle (10 stems) whereas a Type B output will sell for only $1.25 per bundle. Based on conversations with E.K., historically 80% of Wengfong's output is considered Type A, 10% Type B, and 10% Type C. E.K believes that deploying smart sensing throughout the farm will lead to a 10% increase in Type A flowers.
A 10% increase in type A flowers will result in additional annual revenue of approximately $53,000 USD (10% * 364,000 * ($2.70-$1.25)). This results in a year 1 ROI of approximately 128% ((53,000-23,200)/23,200). We note that this ROI is on the conservative side as numerous other savings were not accounted for (for example, manual labor hours saved, savings in fertilizer cost etc.).
What's the product?
Wengfong works with 30MHz tech (a choice of sensors, a scalable mesh network with impeccable uptime, and an analytics platform) to monitor crops remotely in real-time and receive alerts based on custom settings whenever conditions change.
30MHz sources the best sensors out there, and makes sure they're rugged, wireless, and sending accurate data you can see exactly how you need in easy to use dashboards accessible on any device.

The substrate moisture sensor, monitoring VWC, EC and temperature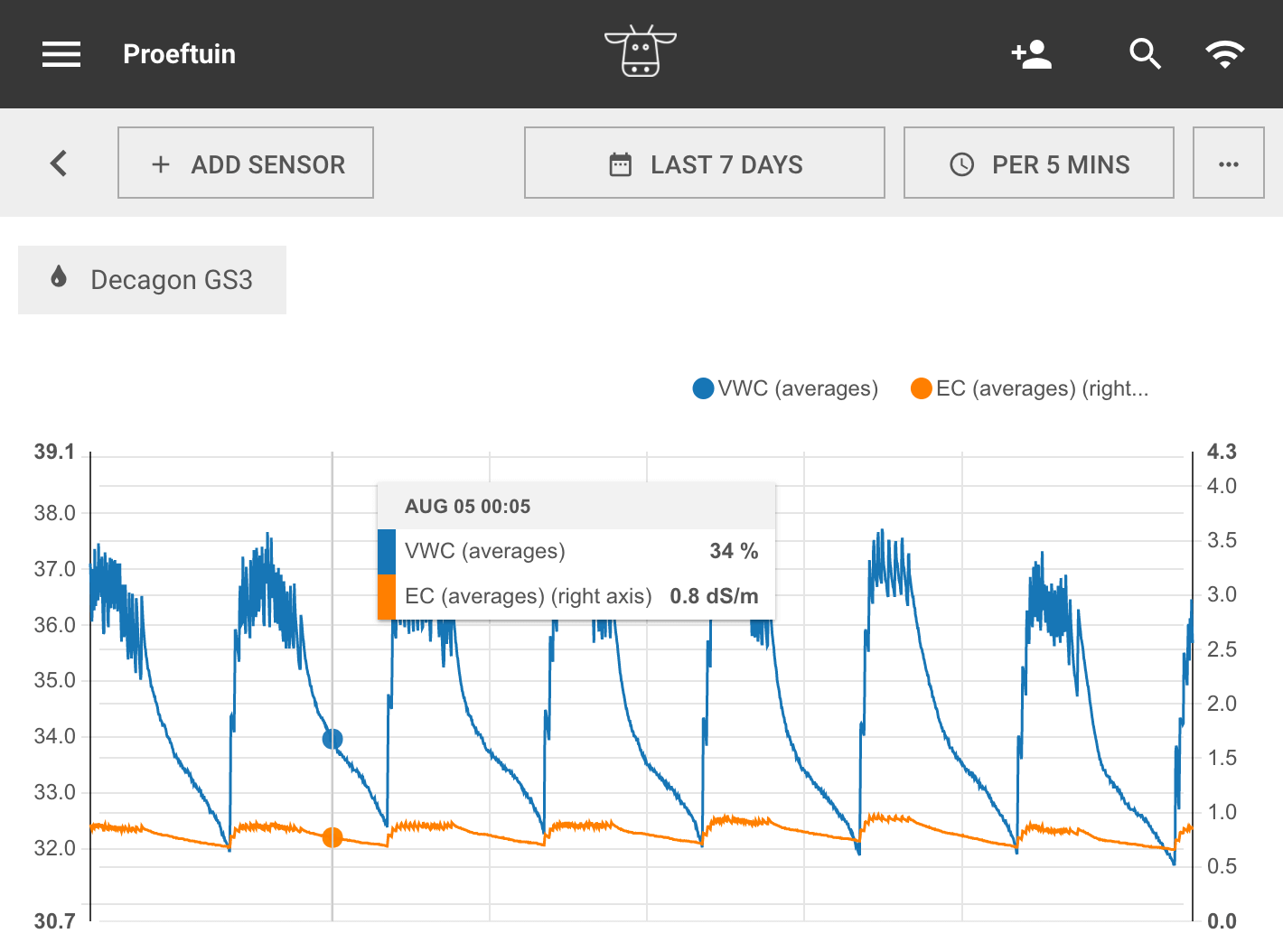 Customizable, interactive charts make it easy to spot trends and changes in your crops' performance
It's that simple
How can we help you digitise your cultivation process?
Analyse all kinds of information from different data sources such as climate computers, sensors and manual input in a central platform. Improve the production process of your crops, plants, seeds or bulbs together with advisors, distributors and researchers. We are happy to talk to you about which service model is most suitable for your company.