Using crop level data to optimise IPM strategy
November 09, 2020
Ant Surrage works as a Technical Development Specialist for Fargro. In this article he explains how collecting and visualising crop level and crop walk data can be helpful with the optimisation of an IPM program.

Integrated pest management (IPM) is now becoming a mainstay of crop protection. However, although our pest management practices are integrated rarely are our datasets. I regularly see growers have several different spreadsheets collecting and storing metrics. To truly unlock the potential of that data it needs to be centralised on a platform and visualised in a way that creates new actionable insights to optimise IPM performance.
There is great value to collecting many different data sets but the two most important from my experience with growers has been microclimate crop level data and detailed crop walk data.
The crop level data gives us a more valid metric to base decisions on. The environment within the canopy or on the underside of the leaf can be profoundly different from the surrounding growing environment. This is also measuring and monitoring the areas where pest and disease will develop. This intern means that any decision support dashboards created will be more representative of the crop and lead to better decision making.
---
30MHz Sensor Catalogue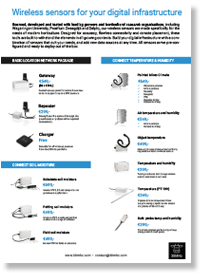 Designed for accuracy, flawless connectivity and remote placement, these tools are built to withstand the elements in all growing contexts. Build your digital infrastructure with a combination of sensors that suit your needs, and add new data sources at any time. Our wireless sensors are made specifically for the needs of modern horticulture.
All sensors arrive pre-configured and ready to deploy out of the box.
Download the 30MHz Sensor Catalogue
---
How to score pest and disease pressure
Secondly, crop walk data is hugely important as it gives a historic perspective that allows for further refinement and specification of an IPM programme. It is useful for the team crop walking to have an agreed protocol and a mutual understanding of how to score pest and disease pressure. We often see growers score on a scale of 0 – 5, where 0 is no presence and 5 is a severe infection. Ensuring that everyone is scoring a 3 is crucial to make sure data sets are reliable.
Using 30MHz's data platform and the manual data input function allows us to overlay, in widgets, pest and disease pressure against key environmental metrics such as temperature and humidity. Working with grower groups over the last two years we have been collecting the data and looking for patterns in conditions that may explain the pest and disease increases. Using these widgets and Growing Degree Hours/Growing Degree Days functions we have been able to support growers in improving the timing of their applications of biocontrol and biopesticides.
Understanding and visualising high-risk conditions for disease development has meant that growers have been able to adjust their cultural practices such as spacing, screening and venting. This reduces the risk of disease and can push infection back, which can save on applications of controls measures, saving money but perhaps as importantly in the current approval climate maintain the number of applications for key chemical controls.
Data can be visualised via the widgets in the platform to recommend in real-time what IPM control measures will work most effectively. The best example of this is biopesticides. Biopesticides tend to be based on living organisms and as such have adapted to inhabit certain environmental conditions. Environmental data can be presented in a way that lets a grower know if the temperatures and/or humidity are correct for an efficacious application. Taking this into account growers and advisors alike can have confidence that the environmental conditions will not be a limiting factor in the efficacy of that IPM input.
To summarise, collecting, centralising and visualising crop level environmental and crop walk data can allow for the optimisation of an IPM programme at every level from cultural and hygiene measures to the application of biopesticides.
---
Monitor crop-level and climate insights in one platform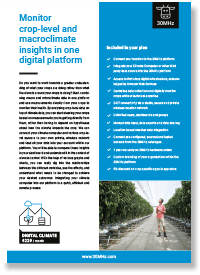 Do you want to work towards a greater understanding of what your crops are doing rather than what the climate around your crops is doing?
30MHz Digital Complete combines macro and micro climate data and uses measurements directly from your crops to monitor their health. We can connect your climate computer and various crop-level sensors to your private wireless network and feed all your data into your account within our platform.
Download the information about Digital Complete
---
How can we help you digitise your cultivation process?
Analyse all kinds of information from different data sources such as climate computers, sensors and manual input in a central platform. Improve the production process of your crops, plants, seeds or bulbs together with advisors, distributors and researchers. We are happy to talk to you about which service model is most suitable for your company.