Smart Greenhouse: Growing Better Peppers with Data
November 15, 2020
The Pointed Temperature Sensor helped Kwekerij Moors leverage data to reduce product loss and grow better peppers. Kwekerij Moors co-owner Sander Berkers explains how temperature data helped his business and how 30MHz worked closely with them to develop a flexible infrared heat sensor that could measure the temperature of a fruit or vegetable from a very close range. 
Monitoring pepper variables at large scale
In the southeast of Brabant, a southern province in Holland, Kwekerij Moors grows peppers on a very large scale. We use greenhouses to do this and we know a great deal about our plants and monitor multiple variables. Our main goal is optimizing environmental factors around the peppers including temperature, humidity, and irrigation. We use quantitative data and craftsmanship to provide our plants with the ideal balance of nutrients and water.
30MHz Sensor Catalogus
Designed for accuracy, flawless connectivity and remote placement, these tools are built to withstand the elements in all growing contexts. Build your digital infrastructure with a combination of sensors that suit your needs, and add new data sources at any time.
Optimizing vegetable growth with data
Growing nice, juicy peppers begins with making sure our greenhouses have warm, cozy temperatures. It's a delicate balance, though: when a pepper gets too hot, it risks "burning," causing it to look distasteful and no longer meeting our quality standards. Whenever the pepper gets too cold it can condensate due to a too rapid increase of temperature, quality is lost. We regulate the temperature in the greenhouse by turning on the heating system or ventilating the space. The goal in this is to keep the CO2 level as high as possible, establishing an optimal photosynthetic situation for the plants.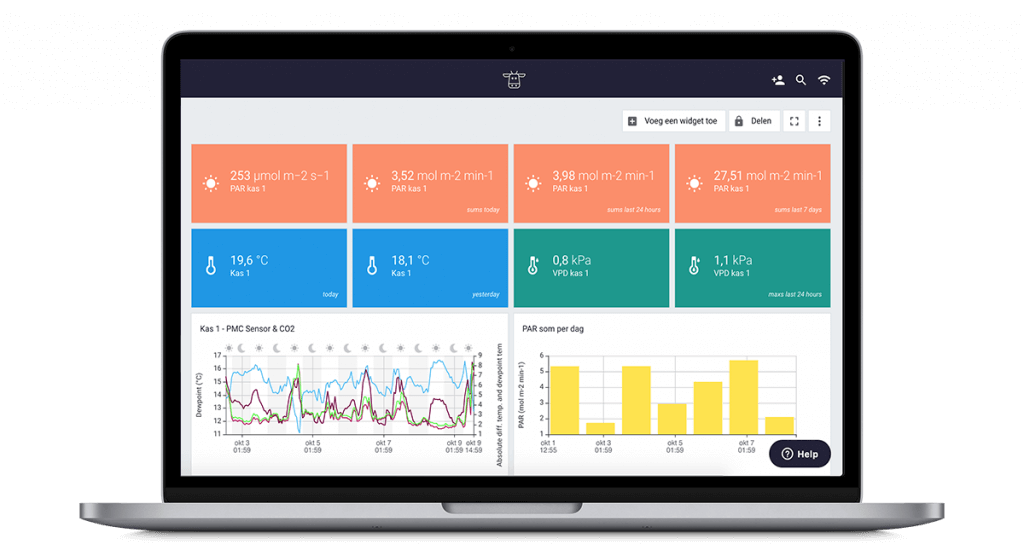 New ways to improve cultivation
The agricultural sector continuously searches for ways to improve cultivation and constantly strives for maximum efficiency. The more we measure, the more we know and the better we can arrange our greenhouses. This is why we started working with 30MHz. Together we developed the pointed temperature sensor, which can measure the temperature of a pepper from a very close range. The data gives us the opportunity to control the climate even better. We are very enthusiastic about the first results and are looking forward to further optimizing the sensor!
Pointed Micro Climate sensor
This sensor uses leaf temperature and temperature humidity measurements to continuously capture microclimate at close range. Use data from the sensor to better determine heating needs, cutting unnecessary energy expenditures and lowering the risk of plant fungus and disease.
A lot of our customers use this sensor for measuring VPD and dew point.
How can we help you digitise your cultivation process?
Analyse all kinds of information from different data sources such as climate computers, sensors and manual input in a central platform. Improve the production process of your crops, plants, seeds or bulbs together with advisors, distributors and researchers. We are happy to talk to you about which service model is most suitable for your company.