Now also weather data in the Irrigation Management App
November 29, 2022
The Irrigation Management App has been further expanded. The most recent expansion concerns the addition of weather data. Based on accurate weather forecasts, it is possible to manage even better and to deploy resources such as water and fertilizers even more efficiently and effectively.
The Irrigation Management App is a great tool for optimizing cultivation in terms of irrigation and fertigation. Sensors measure the relative amount of moisture in the soil available for your crop (VWC). You can customize the app for any crop on any surface. By setting thresholds, you determine the bandwidth of the amount of soil moisture within which you want to operate.
Extensions of the Irrigation Management App
The app was recently expanded with the EC (Electric Conductivity). This makes it possible to use valuable fertilizers efficiently, so that they benefit the crop and do not disappear into the soil through leaching.
The app has now been further expanded with the reliable weather data from Meteomatics. This extension gives you insight into three crucial values: temperature, relative humidity and radiation (Photosynthetically Active Radiation, PAR). With the latest addition, as a grower you have a dashboard with numerous options to control and optimize your cultivation.
The weather in a line graph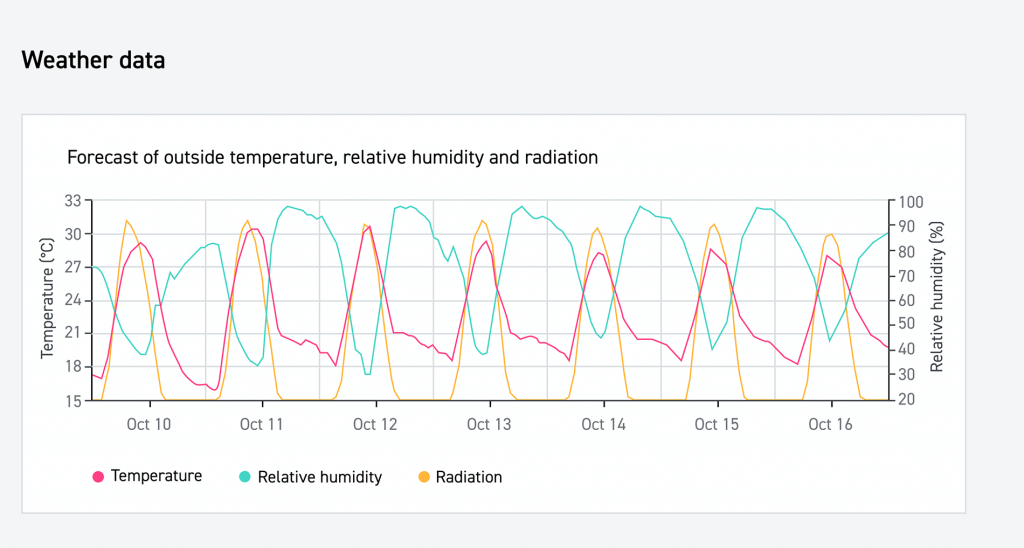 The line graph above has been newly added to the Irrigation Management App. This data is based on the weather forecast from Meteomatics. This information makes it possible to create conditions that the grower deems desirable for his crop at that moment. This proactive approach ensures a more efficient use of water, energy and fertilizers.
The line graph shows a fairly constant weather picture, with temperature and radiation shown in the red and orange lines respectively. The blue line, the relative humidity, reaches its highest values at night when the temperature is lowest and the sun is not shining.
Optimizing cultivation
Adding the weather data makes it possible to anticipate the conditions to come. This makes it easy to optimize the right conditions for the crop. The advantages are that you can grow more planably and consistently and that you can make optimal use of sunlight and heat, so that you can use precious energy, water and fertilizers as efficiently as possible.
Do you want to know more?
Leave your details and we will contact you.
How can we help you digitise your cultivation process?
Analyse all kinds of information from different data sources such as climate computers, sensors and manual input in a central platform. Improve the production process of your crops, plants, seeds or bulbs together with advisors, distributors and researchers. We are happy to talk to you about which service model is most suitable for your company.