Weather data in your 30MHz dashboard
April 14, 2022
The weather is a topic it seems we can never stop talking about. And this is not without a good reason. It's obvious that the weather is particularly important to growers. Weather data can be considered the backbone of the 30MHz dashboard. The past, the current weather situation and of course the weather forecasts are pricesless to a grower.
Some of the meteorological data available in the 30MHz dashboard:
Temperature
RV
Precipitation
Wind speed
Wind speed + wind direction
Radiation (in W/cm2, W/M2 or J/cm2)
Air pressure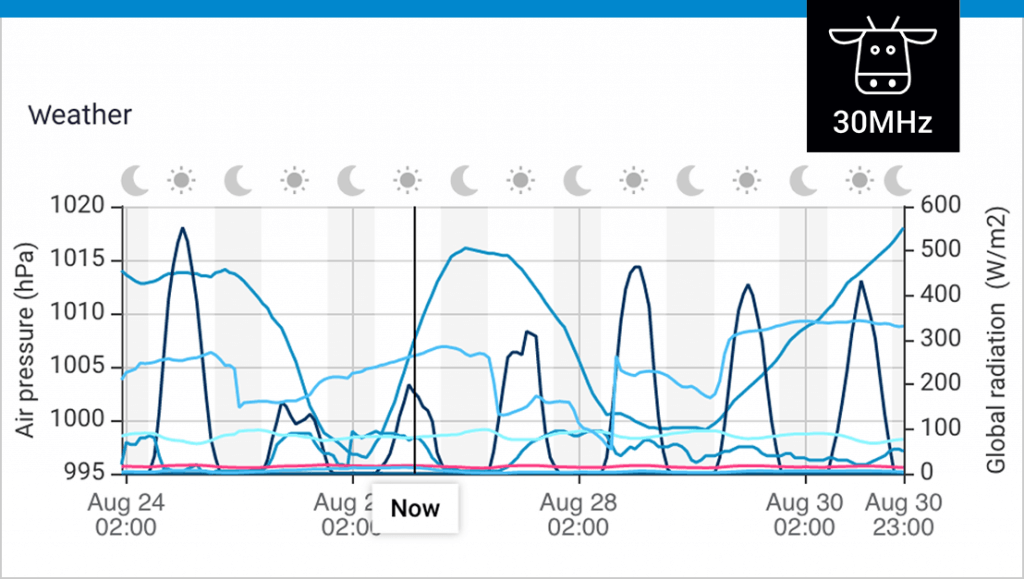 Reliable weather forecasts
Because weather forecasts are so valuable, it is important that the data in relation to this is reliable. The weather data on the 30MHz platform comes from Meteomatics, a Swiss company that focuses entirely on collecting weather data, which is as reliable as a Swiss watch. The reliability of the data is so high that leading companies all over the world rely on the data provided by Meteomatics. These companies include Airbus, Vattenfall, Zurich Airport, Toyota and the University of Nebraska. Every user of the 30MHz has access to weather data from Meteomatics. This is provided s a standard, entirely free of charge.
You can use the weather data in many ways
You can customise your dashboard entirely to your taste and to suit your needs. Here are some of the possibilities:
1. Display the current weather situation in your dashboard
Weather data can be accessed even more easily by creating a widget. This lets you see the current weather situation at a single glance.
2. Display the weather forecast
It is always important to know what the weather is going to do. You have access to this data in your 30MHz at the convenient click of a button. Create your own widget, so that you always have direct insight into the data that is most relevant to you.
3. Adjust period
To see the weather forecasts relevant to you, you created your own widget in the previous step. With the same simplicity you can now create a widget for a specific period. You decide how many days you want to look back or ahead.
With the Explore function in the 30MHz platform you can also zoom in deeper on your widget to see even more accurately what the weather will do in the near future or what has happened recently. If you see something special, you can immediately post a comment.
4. One-hour measurement interval
Meteomatics shows its measurements with a one-hour interval. To see the value wish to have displayed, simply click on the 'Units' drop-down menu. You can select J/cm2 per hour, for example. This will bring up accurate data, clearly and concisely.
5. Add another data line
The 30MHz dashboard offers infinite possibilities for displaying precisely the data that is relevant to you. In the dashboard you can link different widgets and you can easily add different data lines to the weather data. In this way you get an accurate insight into what happened in the greenhouse – and outside the greenhouse. This will teach you how to get the most out of tomorrow's weather conditions.
30MHz Sensor Catalogue
Designed for accuracy, flawless connectivity and remote placement, these tools are built to withstand the elements in all growing contexts. Build your digital infrastructure with a combination of sensors that suit your needs, and add new data sources at any time.
How can we help you digitise your cultivation process?
Analyse all kinds of information from different data sources such as climate computers, sensors and manual input in a central platform. Improve the production process of your crops, plants, seeds or bulbs together with advisors, distributors and researchers. We are happy to talk to you about which service model is most suitable for your company.