Growing under foil: Evanthia benefits from compact wireless sensors
August 18, 2022

Evanthia is one of the Dutch greenhouse horticultural sector's many stars. It has been working under the shelter of glass for more than 25 years, cultivating cut flowers and tropical plants and breeding seeds. Cultivation is continuously optimised, thanks in part to the use of 30MHz sensors.
Evanthia's numbers are impressive. The company collaborates with partners in 40 countries. It has an area of more than 47,000 square metres available for production in the Netherlands alone. More than 2,000 customers in nearly 100 countries are served by Evanthia's 75 employees.
Getting used to the light
One of Evanthia's specialties is growing tropical plants under foil, for which production managers Henri Valstar and Wojtek Rozynski are responsible. They receive a shipment of plants for tissue culture from China every two to three weeks. 'These are very small plants that have been grown in laboratories under perfect conditions. They are planted by hand, then placed in tunnels in the greenhouse under foil where they're exposed to light for the first time. They remain under foil for the first two to three weeks. If they were suddenly exposed to full light, it would kill them,' explains Henri Valstar.
Until recently, the only way to find out what was happening under the film was to look with the naked eye. 'When growing under foil, moisture, temperature and light are particularly important factors. The problem is, how do you measure them? The climate computer is a bit too bulky to take measurements under foil.'
Crop advisor proposes a solution
Evanthia's crop advisor had been using 30MHz sensors for some time. 'He was achieving good results with them, and recommended we give them a go. The advisor placed a number of sensors at Evanthia to try them out. 'This trial yielded some important information. The plants are vulnerable when first planted. With accurate measurement data, you can give them exactly the start they need. Your gut feeling is also important, of course, but objective data helps optimise cultivation. Ultimately, the data results in better quality plants and fewer losses.'
The tropical plant departments cultivate about 240 different species. 'There are already lots of species, and new ones are being added all the time. The market is constantly shifting, with one strain coming into fashion after the other. We try to serve that market as well as possible, but it means we have to vary a lot. On average, the plants remain under foil for two to three weeks, after which they have grown enough for the foil to be removed and the plants placed directly under glass. After a total cycle of about twelve weeks, we sell them to growers all over the world, who further cultivate them.'
Ebook: 5 opportunities to benefit from digital horticulture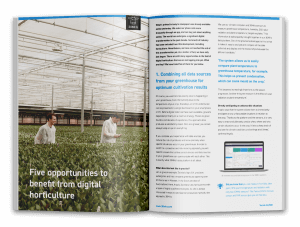 The digitization of horticulture offers great opportunities for energy-efficient cultivation. The use of sensor and climate data provides new insights to optimize cultivation.
Changing circumstances
In an ideal world, each variety would have its own measuring unit so that the conditions under foil and in the greenhouse could be optimised. 'We grow 240 different types of tropical plants in our department, so that would be impossible. With the PMC and PAR, we can monitor what happens under foil really well. That's extremely useful, because the plants are very vulnerable at this stage. If circumstances change unexpectedly, it's good to be able to intervene without delay. The sensors have spared us any unpleasant surprises.'
Wide range of possibilities
The possibilities provided by 30MHz sensors are being explored step by step. The measurement results are stored, and can be easily consulted via the dashboard. The data is particularly useful for identifying root causes if anything unusual happens. Occasional tests are also conducted by placing PMC sensors on species to find out the conditions the species in question needs to thrive. 'There are so many possibilities. We're delving into them step by step. To be honest, what's most important for us is that these compact, wireless sensors can easily carry out measurements under foil. That's a daily task that will always have to continue.'
Summary of the advantages:
Measurement data of conditions under foil puts the grower in control of what happens there.
These insights ensure that anything unusual is detected immediately.
If irregularities are spotted, the grower can intervene quickly and adequately.
This leads to better quality and fewer losses.
Evanthia benefits from compact wireless sensors
The properties of 30MHz sensors really come into their own under foil. The sensors are compact and wireless. They are easy to move, and actually a simple plug & play solution. Sensors provide objective, accurate data, and in real time too. It's easy to set threshold values via the user-friendly dashboard. You receive a message on your phone if these values are reached. You can also set alarms if critical values are reached.
With this compact equipment, A/B tests can be carried out quickly and easily to see which conditions give the best results. The objective, accurate measurement data provides reliable backup to a grower's feeling and experience.
30MHz Sensor Catalogue
Designed for accuracy, flawless connectivity and remote placement, these tools are built to withstand the elements in all growing contexts. Build your digital infrastructure with a combination of sensors that suit your needs, and add new data sources at any time.
How can we help you digitise your cultivation process?
Analyse all kinds of information from different data sources such as climate computers, sensors and manual input in a central platform. Improve the production process of your crops, plants, seeds or bulbs together with advisors, distributors and researchers. We are happy to talk to you about which service model is most suitable for your company.