November 08, 2023
Last summer, Aranet and 30MHz joined forces. Curious about the power of connected sensors to the horticulture data platform? How can you effectively use various sensors for cultivation solutions? Learn about the uses of Aranet's sensors and valuable tips & tricks of the 30MHz platform in the webinar on Wednesday, November 22. Will you join us?
Wednesday, November 22
5:00 PM – 6:00 PM CET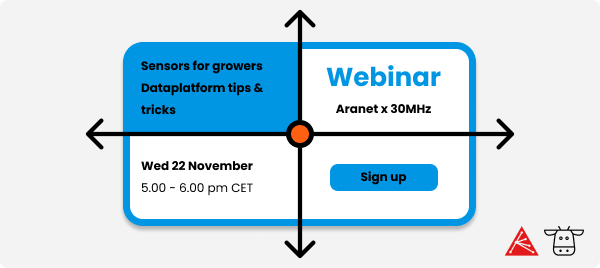 The strength of this collaboration lies in connecting various sensors to the advanced data platform of 30MHz. As a grower, this allows you to gather a wealth of data and easily visualize valuable insights. Set up notifications to protect your crops, share insights with colleagues or partners, and combine data from different sources. The various modules in the platform make it easy to implement a strategy, such as the most efficient use of energy with the RTR strategy app.
"The synergy between our companies was pointed out by some of our clients as a perfect marriage already. We bring together the best data platform in horticulture with state-of-the-art sensors." – Gints Antoms, sales director at Aranet
How can we help you digitise your cultivation process?
Analyse all kinds of information from different data sources such as climate computers, sensors and manual input in a central platform. Improve the production process of your crops, plants, seeds or bulbs together with advisors, distributors and researchers. We are happy to talk to you about which service model is most suitable for your company.