Timo Spruijt is 30MHz's new CCO: 'Together with growers and partners we innovate'
December 03, 2020
Timo Spruijt is 30MHz's new Chief Commercial Officer (CCO). Together with 30MHz Timo wants to take big steps in innovating agriculture and simplify digitalisation in the sector. "Growers and partners can use 30MHz to decide which information is valuable to their business."
Ever since he was young Timo Spruijt worked in agriculture. A sector that brought him all over the world. When he was 13 years old he began fluffing roses and from the age of 17 he is working full time in agriculture. After different jobs for growers and breeders he started working for Koppert Biological Systems as an international high tech-consultant 12 years ago. He moved to Mexico to become Kopperts commercial officer and stayed there for a few years. Then he returned to the head office in the Netherlands where he started working as a commercial manager in the Agri Division. 
"In that role I translated the technological aspects of the products to a pragmatic story for the customer", Timo says. "While doing that I continuously kept the customers wishes and expectations in mind. I believe that everything you do in a business has to be aimed at your customers and that they will tell each other that you are the right company for them."
Now you landed at the digital side of agriculture. Why did you join 30MHz?
"I want to innovate. Technological innovation is a huge trend and has a major influence on agriculture. When I talked to 30MHz it all came together. This company has a unique and strong position which convinced me that I had to do it. Last year I started a global executive Master of Business Administration (MBA). In the first week we had to prepare a personal statement. I said: 'I will innovate agriculture'. At 30MHz I will get the chance to do just that."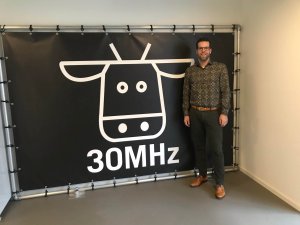 What are your thoughts on technological innovation in agriculture?
"Agriculture is known for its 'fingerspitzengefühl' and the will to innovate continuously. The growers know what is most important for their crops and their business. By monitoring and automating growers can get the maximum out of their knowledge and experience, and their suppliers. But if you get overwhelmed with all the new developments, it can be hard to process the information into something that improves your business."
What role is 30MHz playing in all this?
"As I said: the grower knows what's best for their business. 30MHz can simplify things for them by translating digitalization to practical information. We see that growers have lots of equipment, information from different sources and get advice from different companies. That can be difficult. We ask the growers: 'What do you want to know and what do you want to learn?' Well by using the 30MHz platform you can see just that. 30MHz doesn't take sides and the platform evolves together with the growers and their partners. The partners of growers are our partners and we would like to connect their future systems to our platform. The grower decides what is valuable and which information he needs. He is in control and decides who can see his data. On the other end there are partners that offer their data on the 30MHz platform. This way they can provide solutions for growers who have more complex questions. Together we innovate the sector."
What are your views and plans for the future?
"30MHz is not just a platform for existing features, but also for the coming aspects. The development of precision growing, drones and robots combined with the public demand for a more transparent and responsible way of growing, will create a wave of information in agriculture. 30MHz is able to support this in real time. Not in the form of an overwhelming wave of information, but a summary that is relevant to you. This way 30MHz can be the centre of knowledge sharing, while the growers and their partners keep developing in their own field. It is my dream to help growers on all continents to implement this innovation and to transfer knowledge into action. Together with them I want to make a difference. To get back on my earlier statement: 'I will innovate agriculture', starting at 30MHz is the first step in that mission."
Timo Spruijt is 30MHz's new Chief Commercial Officer. Together with 30MHz Timo wants to take big steps in innovating agriculture and simplify digitalization in the sector. Welcome Timo! Read more about his mission: https://t.co/QBR5eEL6bC pic.twitter.com/Agvv7GWS0D

— 30MHz (@30mhz) December 4, 2020
How can we help you digitise your cultivation process?
Analyse all kinds of information from different data sources such as climate computers, sensors and manual input in a central platform. Improve the production process of your crops, plants, seeds or bulbs together with advisors, distributors and researchers. We are happy to talk to you about which service model is most suitable for your company.