Three insights from the table talk about data driven growing
June 03, 2021
Why is it important to have a connecting party when you are collecting data as a grower? And can you collect too much data? Just two of the many topics that were discussed during the table talk of TechnoHouse online tour hosted by Rijk Zwaan. Three experts joined a discussion about data driven growing and our commercial director Timo Spruijt was one of them! Let's look back at three of the subjects that were covered.
(Scroll down if you prefer to see the video)
The experts:
Timo Spruijt: commercial director 30MHz
Mike Poodt: Digital Crop Technology Consultant at Rijk Zwaan
Roy Persoon: Co-owner of MR Seeds
You need a connecter for the increasing amount of data
The last few years the amount of data has increased enormously and this will continue in the coming years. Every year hardware and software are becoming easier accessible for a larger group of growers. This urges the need for one central place, one platform where you can connect all your sensors. In that ever increasing field of data providers, you need a connector. A platform can be the link between all those data providers and data sources. A platform enables you to get the most out of your data.
Data is at its best when it moves around freely so users can decide which data they want to use to achieve their company goals. That's why 30MHz focuses on connectivity and we make it able to integrate different parties into the same platform. This can help growers get a clear overview and turn that collected data into actionable insights.
Start digitising your cultivation process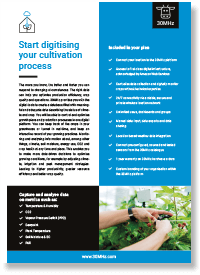 The more you know, the better and faster you can respond to changing circumstances. The right data can help you optimise production efficiency, crop quality and operations.
30MHz Digital Connect provides you with the digital tools to create a database filled with meaningful and adequate data describing the status of climate and crop. You will be able to control and optimise growth plans and production processes in one digital platform.
Historical data can help for future decision making
The guests had a nice discussion about the question if there is something like too much data. A lot of data can be overwhelming, but to use data right you need to focus. 30MHz's Timo: "If you are collecting data but don't know exactly what to do with it, you can store it anyway. Then a few years later you can consult your database and connect it to the decision making process of that time so you know exactly what that data was for. Then you have a track record that you can use for future decision making. Technology will develop overtime. The need for data will grow. So if you already have a database of historical facts, you can make a better estimation of the impact of your decisions."
Rijk Zwaan Researcher Mike Poodt pointed out that it's important to make sure that the data you're collecting has a certain quality. "If it's not quality data, then you can store it but no one will ever use it. You can only create confusion for your colleagues in the future. Yes, we need to collect a lot of data, but always with an idea behind it."
Roy Persoon of MR Seeds likes to build a database as a grower. "We are currently doing some measurements which we don't really use. We are building a database anyway, because we expect that in the near future we can use it."
Data belongs to the grower, and it's important to keep it safe
Data used to be something you collected in your mind. Now it's stored on computers and servers. At 30MHz we believe that data belongs to the grower. It contains valuable business information and you don't want others to get your valuable information. At 30MHz we follow the international data security protocols to keep your data safe in our infrastructure. We secure your wireless network.
Click here for the recording of the event
Want to know more about data driven growing? If you have any questions about our products or want to know how we can help you take digital steps? Don't hesitate to let us know!  Email support@30mhz.com or fill in this form to get more information.
How can we help you digitise your cultivation process?
Analyse all kinds of information from different data sources such as climate computers, sensors and manual input in a central platform. Improve the production process of your crops, plants, seeds or bulbs together with advisors, distributors and researchers. We are happy to talk to you about which service model is most suitable for your company.