The same yield with less water and fewer fertilisers
September 13, 2022
The right amount of water is essential for a healthy crop, and as an added bonus it's more sustainable too. The 30MHz Irrigation Management app gives every grower control over their irrigation, and backs up instinct with reliable data. Thanks to this innovation, a crop gets exactly the quantity of water it needs.
30MHz presents its latest innovation: The Irrigation Management App
30MHz works alongside growers on improving cultivation strategies and making the world more sustainable. The Irrigation Management App provides a complete and reliable overview of the moisture management in the greenhouse, the tunnel, or open fields. Clear graphs show growers exactly how much water the crop has available, and whether irrigation is required.
This handy app ensures that the plant never has too little moisture, which can cause it to become stressed or even permanently dry out. The grower also never overwaters thanks to the overview in the app. Wasting water is unsustainable, and can also lead to fertilisers and nutrients being lost from the growing medium. Excessive moisture can also cause mould, mildew, and root rot. With this innovative app, growers have the right data available on their phones in real time.
Optimize your irrigation strategy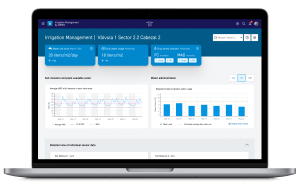 Too little moisture in the active root zone reduce yields, while excess soil moisture can cause mould and root rot, and wash away minerals.
The app shows you how much water is available in the soil for the plant.
The Irrigation Management App relies on data input from a complete kit consisting of four easily-installed plug & play compact wireless sensors. A solar repeater ensures that the data is forwarded to the app. The grower can indicate the parameters relevant to them in the app, after which all information from their cultivation environment is presented clearly. Growers can also add additional information if desired.
Optimise irrigation strategy
The Irrigation Management App collects information and allows historical data to be consulted at any time. As a result, patterns become visible. The flexibility of the compact wireless sensors also makes it easy to use them to test new insights through A/B testing. Each grower can then use the knowledge and insights to optimise their own irrigation strategy.
The ideal frequency and length of irrigation can be derived from the sensor measurements, which can be read 24/7 in the app on the phone. The user can track their KPIs and set thresholds in the app on the parameters field capacity (FC), management allowable depletion (MAD) and the permanent wilting point (PWP). These values can represent four situations: too dry/extreme stress, stress, optimal, and too humid.
Irrigation Management Guide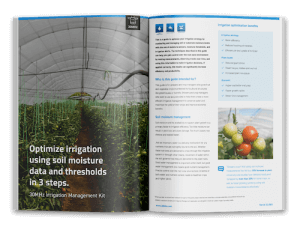 Optimize your irrigation strategy by monitoring and managing soil or substrate moisture levels with the use of Moisture sensors, moisture thresholds, and irrigation alerts.
Gain control over the root zone environment by making measurements, observing trends over time, and using this information to make irrigation decisions.
Same yields with considerably less water
During development trials, the Irrigation Management app showed that it could reduce water consumption significantly. Irrigation water savings of between 10 and 30% were achieved, with no loss of yields.
This app and its associated kit are a remarkable example of how technological developments can drive progress. The sensors rely on advanced technology that ensures extremely reliable and accurate measurements. The sensors can be connected to a solar repeater, so that the measurement data can be sent over long distances; useful for growers with large plots. All data is collected in real time in the app, which can then be read on a laptop or phone.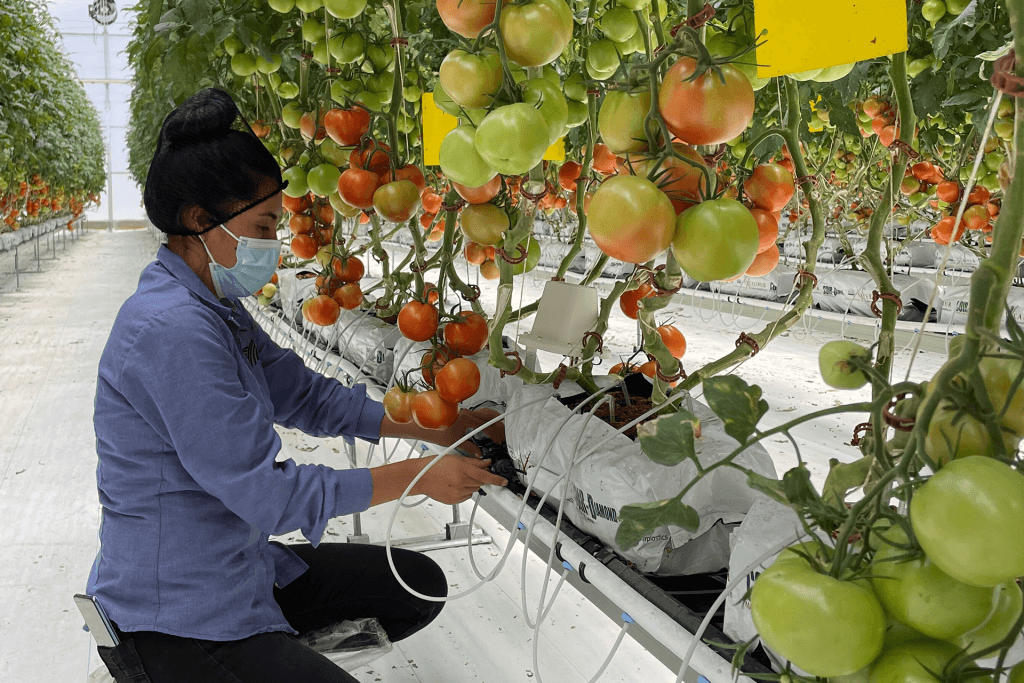 All your measurement data in a single, easy-to-use app
The grower can customise the Irrigation Management App to their own liking, one of the options being to add information from registration sheets to the app. Every user of the Irrigation Management App can also count on the support of the 30MHz support team specialists.
The advantages of the Irrigation Management App
Irrigation strategy
More efficient use of water
More efficient use of fertilisers
Less leaching of minerals
Better absorption of nutrients
Crop health
Less plant stress
Less mould, mildew and root rot
Better crop health
Practical advantages
Compact, wireless sensors
Easy to integrate with existing technology
Real-time overview of soil moisture
Suitable for large plots, thanks to solar power
Plug & Play; no technical requirements
Not a custom system, but generally applicable
Durable, low maintenance, and weather resistant
How can we help you digitise your cultivation process?
Analyse all kinds of information from different data sources such as climate computers, sensors and manual input in a central platform. Improve the production process of your crops, plants, seeds or bulbs together with advisors, distributors and researchers. We are happy to talk to you about which service model is most suitable for your company.