Presentation Irrigation Management Kit at Mexican Greenhouse Conference
November 15, 2022
The Mexican Greenhouse Conference in El Marques, northwest of the capital Mexico City, is a leading horticulture conference, where hundreds of Mexican entrepreneurs come together.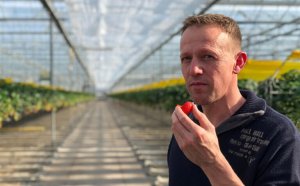 For two days, knowledge, information and inspiration are exchanged by numerous experts. On behalf of 30MHz, crop consultant Mark van der Werf spoke about optimizing the irrigation strategy using the Irrigation Management Kit.
A fragment of the presentation
The Mexican Greenhouse Conference – an initiative of Asesores and Invernados – was held on November 3 and 4 2022.
Watch the full presentation?
Would you like to view Mark van der Werf's full presentation (38 minutes)? Leave your details and we'll send a link to the full video.
How can we help you digitise your cultivation process?
Analyse all kinds of information from different data sources such as climate computers, sensors and manual input in a central platform. Improve the production process of your crops, plants, seeds or bulbs together with advisors, distributors and researchers. We are happy to talk to you about which service model is most suitable for your company.