Optimal greenhouse climate at Trueharvest in Texas
May 05, 2023
Optimal climate in the greenhouse? TrueHarvest Farms is able to monitor the entire growth process with sensors. TrueHarvest is a hydroponic NFT leafy vegetable farm in Texas, US. 
Their focus is on producing high quality and nutritious food in the most sustainable way possible. The farm produces multiple types of leafy greens with a fully automated process. Automation & control is what ensures a consistent quality throughout the growing process. How is this monitored?
30MHz has developed custom sensor brackets to make integration of sensors in the hydroponic growing system as smooth as possible. "The sensors are of high quality and easy to work with. The plant level data that 30MHz provides, in combination with climate computer data, allows us to track plant growth and -health throughout the process. From germination up until harvest."
Plant level conditions allow TrueHarvest farms to optimize the climate in the greenhouse for optimal yields and to reduce the risk of plant stress from, for example, diseases. Does this sound like bread & butter? Do you also want to optimize the greenhouse climate? Contact Dennis at d.vanderwiel@30mhz.com.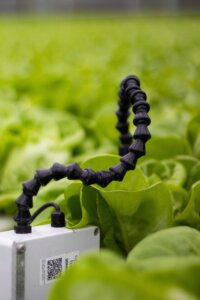 How can we help you digitise your cultivation process?
Analyse all kinds of information from different data sources such as climate computers, sensors and manual input in a central platform. Improve the production process of your crops, plants, seeds or bulbs together with advisors, distributors and researchers. We are happy to talk to you about which service model is most suitable for your company.