Need help? Call our support team! ☎
May 24, 2022
At 30MHz we think it's important that our users can use our platform in an optimal way. At times you may have questions and you would like some help from our support team. Email, chat and our support page filled with helpful articles were your go to's. But we thought it was time for something extra… Call us and get the support that brings you further: +31 20 245 7319.
Just a phone call away
By calling us, you will be able to:
Have direct contact with one of our support members
Resolve the issue faster
Ask us any other questions that come to mind
It's easy, just call us! You can call us on Monday till Friday from 9.00 till 17.00 CEST (Dutch time).
Support that can help you further!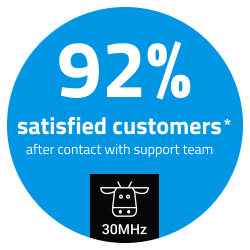 Our Support Team-members are real product experts. They know the platform and hardware thoroughly. Personal contact makes it easier and faster to know the issue and get to a solution. So please don't hesitate to call us whenever you need our help.
*Based on our customer satisfaction rating after having contact with the 30MHz support team. With a response rate of 25-30%.
30MHz Help Center
Our Help Center is filled with more than 100 articles to give the support that you need while using the 30MHz platform and sensors. Read more about installing sensors, tips & tricks, and how to use the platform.
Did you not find the answer? We are here for you! Click on the Support button on the platform to:
Chat with us: via de Support button on het platform or on de website, available from 9.00 till 17.00 CEST (Dutch time)
Call us: +31 20 245 7319
Or just send an email to support@30mhz.com. We can't wait to answer your questions!
30MHz Support
How can we help you digitise your cultivation process?
Analyse all kinds of information from different data sources such as climate computers, sensors and manual input in a central platform. Improve the production process of your crops, plants, seeds or bulbs together with advisors, distributors and researchers. We are happy to talk to you about which service model is most suitable for your company.