Irrigation optimisation with the 30MHz wireless weight scale
October 21, 2021
Sometimes you just want to weigh your plants. Because for some plants measuring the root zone moisture via weight is more effective than with moisture sensors. 30MHz is here to help. With our new wireless weight scale you see at a glance if your plants are in need of watering. Accurately displayed in graphs. This helps you gain insights about topics like water management, vaporization and Integrated Pest Management.
Especially in the potted plants or young plants segments have to work with pots which are too small for a sensor. Some of our users use plugs instead of pots for young plants. The plugs are placed together in a container. For them, an easy way to get an estimation of the moisture level is to weigh the container. A task that becomes very easy if you use the 30MHz wireless weight scale.
Visualize your water management
The 30MHz platform measures the weight of your growing medium 24/7 and visualizes it so it becomes helpful information. Consult the measurements anytime, from any device. You are in control of how you want to display the data. Choose a line graph or create a block with the live numbers. Share your overviews with colleagues and partners, so you can take a data driven approach when you're discussing your growing strategy
When you've created the overviews, you can always check if it's time to take action. That comes with several benefits to your business.
Firstly, it offers insights to improve your water management. By using the scale, you get an accurate impression of the right time to water your plants. That's how you can use data to complement your experience. A timely irrigation is part of an optimized IPM strategy. If you water too soon, too late, too often or too little, your plants will be more vulnerable to pests or disease.
Combine with other measurements
Furthermore, displaying the plant weight on the 30MHz platform can open a big box of new insights. For instance, if you combine the measurements of the wireless weight scale in the same graph as PAR or temperature measurements, you will see new information about how these metrics influence each other. Or learn how the development of mold relates to the moisture levels.
The weight scale is a tool that offers convenience and helps you save time. You don't have to check the weight manually and more often than necessary. Just set up a threshold in the 30MHz platform, so you receive a message when it's time for watering. This smoothens your production process, which can lead to a cost reduction. Because you can never stop optimizing your cultivation process.
Download the weight scale spec sheet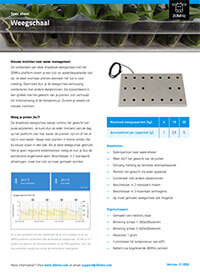 It tells you exactly when it's time to irrigate.
New insights for water management
Consult the weight of your plants anytime
Combine with other data sources in 1 graph
A time and water saving tool combined with the platform
Leave your details and receive the specfications in your inbox directly.

How can we help you digitise your cultivation process?
Analyse all kinds of information from different data sources such as climate computers, sensors and manual input in a central platform. Improve the production process of your crops, plants, seeds or bulbs together with advisors, distributors and researchers. We are happy to talk to you about which service model is most suitable for your company.