Sensor development: far-red light for optimal growth
September 14, 2023
Research increasingly demonstrates the impact of far-red light on crucial aspects of plant cultivation. Having control over far-red light in your greenhouse offers some advantages:
Vegetative growth control: far-red light creates a shading effect that leads to larger leaves, which is particularly interesting for crops like lettuce, spinach, and basil.

Influence on the plant's day-night rhythm: for short-day plants such as chrysanthemums, it can shorten the time to harvest.

Flowering stimulation or prevention: adjusting the ratio of far-red light can either stimulate or prevent flowering.
With a 'standard' PAR sensor, we measure visible light (400 to 700 nm). This is the part of the light spectrum responsible for photosynthesis. Far-red light consists of radiation with wavelengths ranging from 700 to 750 nm. Recent scientific research has shown that this part of the light spectrum also influences photosynthesis effectiveness. There is even a request to the ANSI/ASABE standard to expand the active photosynthesis range to 400 – 750 nm.

The new PAR-FAR sensor not only measures PAR light but also far-red light. When you combine these values, it provides the ePAR (extended PAR) value, a measurement that offers a more comprehensive understanding of photosynthesis. Additionally, we calculate the PAR to far-red ratio for you, which is particularly interesting for tracking the plant's development.
In a greenhouse, many factors influence the amount of far-red light a plant receives, making measuring far-red light essential for gaining insight. As a grower, this allows you to exert more control over the quality of your product and improve yields.
Are you interested in when this sensor is operational? Click the button below: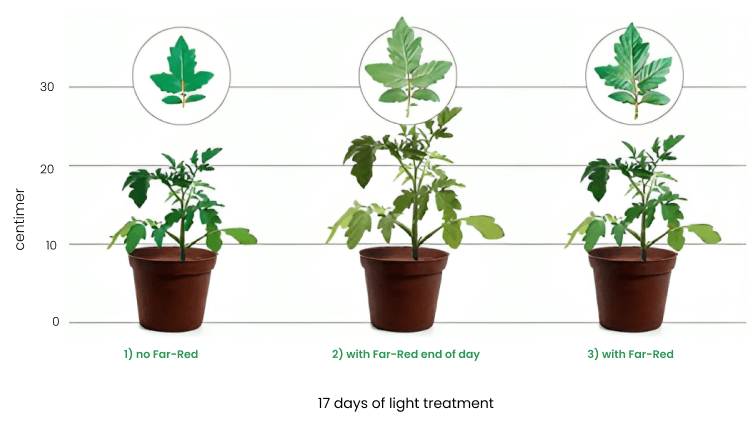 How can we help you digitise your cultivation process?
Analyse all kinds of information from different data sources such as climate computers, sensors and manual input in a central platform. Improve the production process of your crops, plants, seeds or bulbs together with advisors, distributors and researchers. We are happy to talk to you about which service model is most suitable for your company.