Dew point: How wireless measuring at plant level can prevent wetting
July 18, 2022
The dew point is crucial for growers. With the right information about the dew point you can prevent the wetting of crops. You can keep diseases such as mildew and Botrytis out of the greenhouse.
Experienced growers know from their instincts when things get exciting. Supported by the climate computer, it is easy to estimate when the crop will wet. Nevertheless, growers are often unpleasantly surprised by suddenly occurring condensation. Thanks to the sensors of 30MHz you can measure at crop level. This allows you to prevent your crop from wetting based on data.
Do you want to know how 30MHz sensors help you in your daily work and improve your yield? Download the infosheet: Reduce disease pressure: provide insight on dew point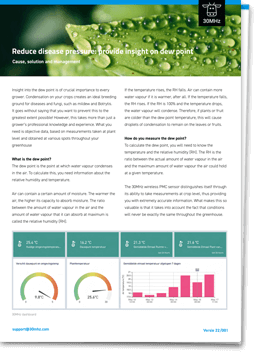 Infosheet | Reduce disease pressure: provide insight on dew point.
This infosheet explains cause, solution and management. Answer the questions and receive the infosheet:

How can we help you digitise your cultivation process?
Analyse all kinds of information from different data sources such as climate computers, sensors and manual input in a central platform. Improve the production process of your crops, plants, seeds or bulbs together with advisors, distributors and researchers. We are happy to talk to you about which service model is most suitable for your company.