Carolina Vázquez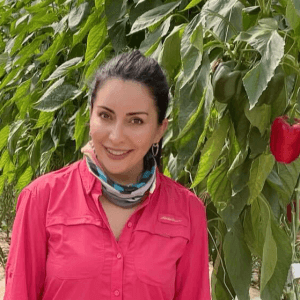 Position: Product Expert Mexico
Where do you come from/ work experience?
I have 10 years of experience in the agriculture industry as key account manager, for companies dedicated to crop protection, 5 years of experience in the AgriTech industry, collaborating with big data and AI startups as well as developing projects with wireless sensors and digital platforms.
Why your choice for 30MHz?
I feel very excited about technology in agriculture and for me it is always important to bring solutions for farmers that can also help to take care of our environment and our natural resources, that's why I feel I share the same goal as 30MHz.
What in your role gives you the energy?
I love to visit the fields, see nature, meet new people, see the crops and bring technological solutions in order to improve their production and take care of their resources.
Saving water together!
What do you find important in contact with partners and (potential) customers?
It is always important to listen to them and understand the challenges they are facing, be sensitive to their needs and effectively communicate that to the team in order to bring a real solution.
Meet Carolina
If you would like to meet Carolina personally, please leave your details.