Radiation-Temperature Ratio Strategy
Improve energy consumption and plant growth
The Radiation-Temperature Ratio (RTR) is used to optimize the temperature and light balance in a greenhouse. The RTR shows the desired target temperature at a certain light intensity. Based on the measured light intensity (PAR) and your RTR strategy, the target temperature is calculated. By controlling the temperature based on this target temperature, you can prevent inefficient energy use and improve plant growth and yield.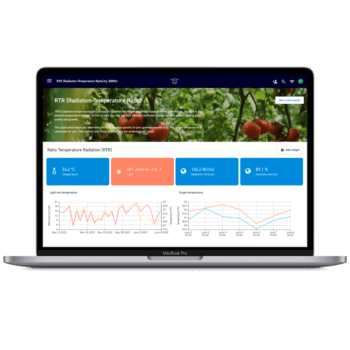 What does the application do?
This application helps you determine the RTR strategy for your greenhouse and crops. You can choose from a suggested strategy or design your own. After determining the strategy, the app helps you monitor whether you are achieving the target temperature. You compare the achieved temperature with the target temperature and receive notifications when the achieved temperature deviates from the target temperature and adjustments are necessary.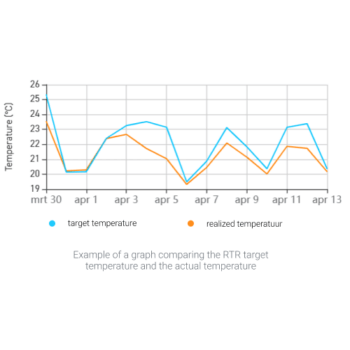 Why use the RTR app?
With the RTR app, you can easily optimize the temperature and light balance in your greenhouse. The application has three components:
Design your own RTR strategy or choose an existing strategy to follow
The RTR target temperature is automatically calculated based on light intensity and the chosen strategy. Check whether you achieve this in practice.
Receive relevant alerts to ensure that you stay in line with your strategy.
By adjusting the temperature, lighting, or shading, you can achieve the RTR strategy. With the app, you can easily monitor this and prevent unnecessary energy loss. Additionally, the plants will be better balanced, resulting in a stronger crop, better growth, and higher yields.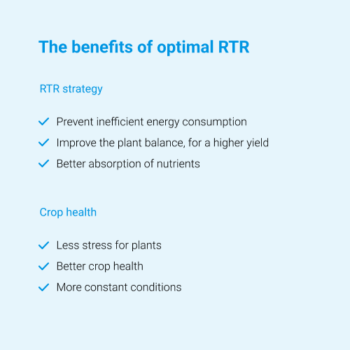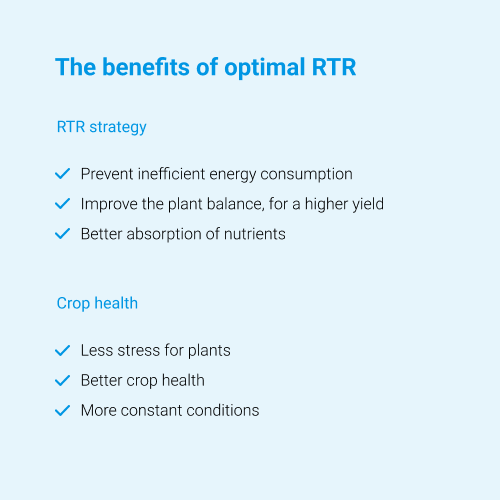 RTR sensor kit
The RTR Strategy App is part of the RTR Strategy Kit, which includes a PAR (intensity) sensor and a temperature-humidity sensor, in addition to the app. The sensors are compact, robust, and wireless, making them easy to move around. The sensors, together with the 30MHz gateway and optional repeaters, form a wireless network that sends real-time data to the platform.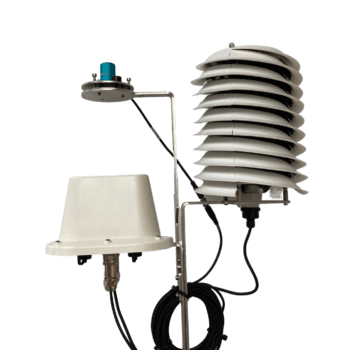 Want to learn more about implementing an RTR strategy?
We are happy to help you gain new cultivation insights and improve your energy consumption and plant growth.