Optimize your cultivation strategies
We offer digital solutions for every stakeholder in horticulture. Growers, advisors, distributors and researchers gain full insights on every step of their growth journey. We offer a platform of integrated products that can grow with you through every stage. The platform ingests all kinds of data sources and analyses information interactively, enabling you to continuously improve the production.​
Solutions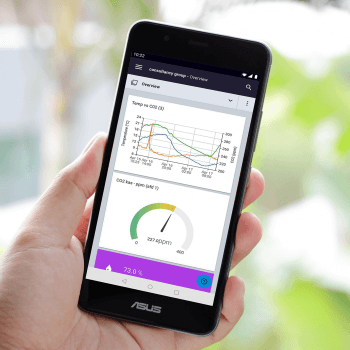 Optimize energy usage
Up to 5% energy savings with the Radiation-Temperature Ratio Strategy. This 30MHz application helps to optimize the temperature & light balance to improve energy consumption and growth of your crop. You design your own RTR strategy or follow an existing strategy. Based on this strategy and the light radiation, the RTR target temperature is calculated automatically.
RTR strategy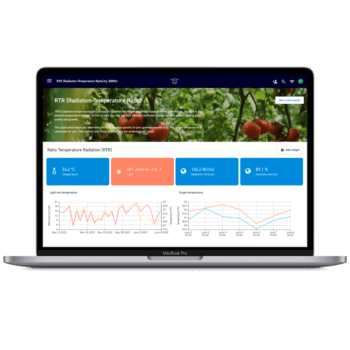 Advanced and easy to use solutions
Our application interfaces are built to deliver value from the get-go. All data is visualized in a way that makes it easy to read and understand. You're in control and there is no steep learning curve. Proven data driven models in the app will support you to turn your data into actionable insights that work for you, your soil or substrate type, crop type and growth stage. So that you can give your plants exactly what they need. Over and over again. But if you have any questions, we are always available to help.
Contact support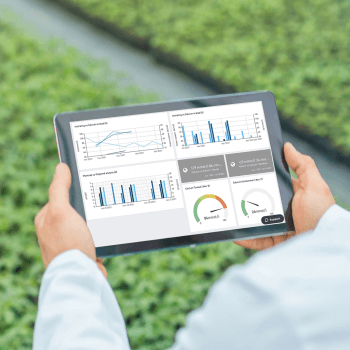 Metrics that matter
Capture the metrics you need to make a difference in your hortibusiness. Our customers use crop-level data to drive yields, reduce losses, optimise irrigation, improve storage, prevent disease risk, and reduce energy. Know what your crops need by monitoring metrics including: VPD, dewpoint, moisture deficit, EC, VWC, temperature, light intensity, relative humidity and CO2.
Wireless sensors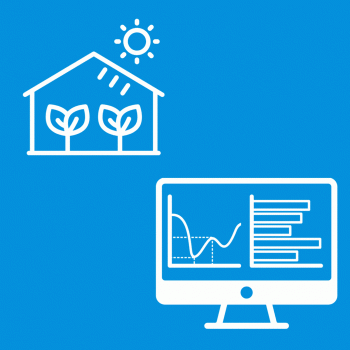 Innovating with the leading names in agriculture
How can we help you digitise your cultivation process?
Analyse all kinds of information from different data sources such as climate computers, sensors and manual input in a central platform. Improve the production process of your crops, plants, seeds or bulbs together with advisors, distributors and researchers. We are happy to talk to you about which service model is most suitable for your company.